What does a Computer Hardware Engineer do?
A computer hardware engineer works in various areas of computer hardware development. Areas could include working in development and research, production, or installation and support. He or she works on computer components and hardware at virtually every step, from the initial brainstorming to the improvement and modification of later secondary models of a previous product. Positions can be found in research institutes, private companies, or the military. Due to the extensiveness of technology throughout many fields, engineers may work on assorted computer components including computer systems, computer chips, modems, circuit boards, and innumerable other parts.
The various tasks of a computer hardware engineer are widespread and diverse. Since they take part in and oversee nearly every aspect of the life of a piece of hardware, these engineers work both independently and with many other positions in their daily tasks. Depending on the specific position and size of the institution or business, computer hardware engineers could work in a single area or many areas.
Computer hardware engineers working in development come up with new ideas and technology. Development engineers help to design and test new computer hardware components. Research and development may be done at many levels and in various manners, including working with actual hardware or working with computer generated models. Engineers may also do studies and analysis to estimate feasibility and viability of new hardware.
Once the initial development phase is complete, computer hardware engineers work to test all aspects of the hardware. Engineers will continue to modify and improve the hardware until it is ready for manufacture. Before production, the hardware engineer is also responsible for making sure the computer component is compliant with all applicable standards and regulations.
Following the completion of a new product or piece of hardware, it is primed for widespread sales and marketing. Throughout this process, a computer hardware engineer assists in planning and orchestrating many aspects of the manufacturing process. If the hardware is part of a larger product, a computer hardware engineer also works on the installation process. This may occur either before or after it has been purchased by a consumer.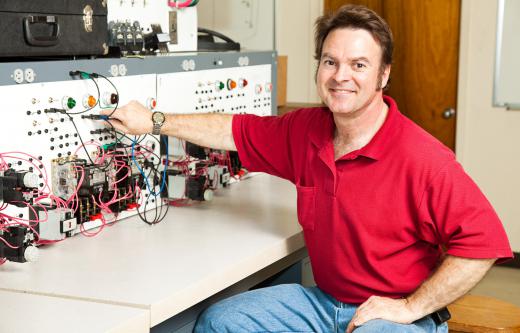 A Bachelor's or Master's degree is normally required for a career in computer hardware engineering. Educational requirements include a strong background in both math and computer programming, as well as numerous courses in the field of engineering. Courses in development, production, logic, and problem solving will also be necessary.
AS FEATURED ON:
AS FEATURED ON:
By: Scanrail

A computer hardware engineer works on computer components and hardware.

By: Oleg Zhukov

Computer hardware engineers are responsible for designing and testing components like computer chips.

By: Monika Wisniewska

A computer hardware engineer may be tasked with designing machines to meet his company's needs.

By: Lisa F. Young

Many computer hardware engineering degrees require hands-on experience in the classroom or through an internship.

By: kolett

A computer hardware engineer should have a strong background in math.