What Does a Data Processing Manager Do?
A data processing manager works to direct data processing centers in organizations. The person also oversees the entire data processing center, which involves understanding computer systems and human relations as well as planning, supervising and creating budgets. The data processing manager in an organization works under the direction of general management, but makes many of his or her own decisions.
Data processing systems looks at and processes data that has been created through an information system in the organization. The information is encoded, which means that a data processing manager must understand the language of the processing center. Another aspect of the job is directing and scheduling the computer mainframe, hosts, servers and core processing centers. If there is a problem with the computers, it is this manager's job to make sure it is taken care of.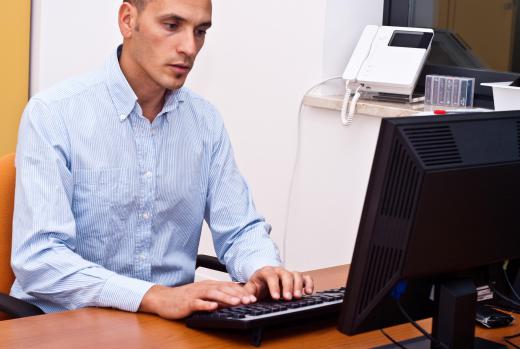 Working as a data processor manager requires doing a lot of planning. This means making and implementing future goals for the data processor center as well as prioritizing these goals. Another aspect of planning is looking at machinery and new technology that could make the processing center work more efficiently and suggesting it to management. The data processing manager needs to be future-oriented in order to be successful in his or her career.
Part of the job of a data processing manager is providing supervision and training to employees in the data processing department. This involves training new employees, creating work schedules and hiring and firing. Providing employee evaluations and recommending employees for promotion within the organization are also involved. When employees in the department do not do their work correctly, it comes back to the data processing manager, so it is important for the manager to develop a trusted team; otherwise, he or she becomes responsible for the work being done.
An important aspect of being a data processing manager is budgeting and working with vendors and outside departments. Budgeting involves setting budgets for the department for the year and having them approved by upper-level management. Managers are usually given a budget and then asked to meet their needs for that amount of money or less. If the data processing manager feels that the department needs to spend more money, he or she consults with upper management about this and is either approved or denied. The manager also deals with vendors related to data processing and coordinates the needs and wants of outside departments within the organization.
AS FEATURED ON:
AS FEATURED ON:
By: Gandolfo Cannatella

An important aspect of being a data processing manager is budgeting.

By: Rawpixel

A data processing manager may supervise and train employees in the data processing department.