What does a Fashion Stylist do?
A fashion stylist spends most of his or her time planning and coordinating outfits. Sometimes the work is very high profile, often centering on fashion shows, catwalks, and major design firms; other times, it is more understated and personal. Whether working to coordinate a fashion shoot or simply dress a single client, though, the crux of the work remains the same. A fashion stylist is responsible for putting together clothing ensembles to meet the demands of specific clients. The job often requires long, often irregular hours and a keen eye for detail — an appreciation for the latest trends and styles is almost always an asset, as well.
Work With Individual Clients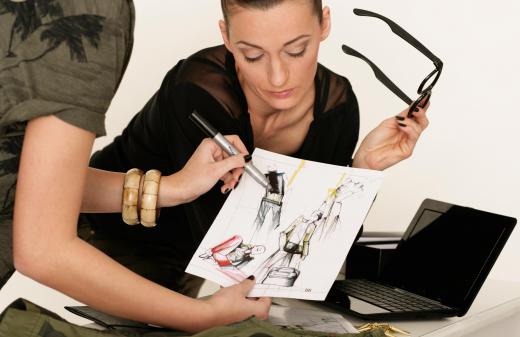 The core elements of a fashion stylist's work are most easily seen on an individual level. Elite members of society often hire stylists to help them chose, purchase, and sometimes even wear clothing that aligns with the latest styles. Professionals in this capacity often work as personal shoppers, dressers, and consultants all in one. They usually begin by meeting with clients to discuss the sort of clothes that are needed. Sometimes stylists work on getting people ready for special events — gala dinners, for instance, or formal balls — though they may also help create a closet full of fashionable staples.
Once the stylist has found a range of options that he or she thinks would suit the client, there is usually another consultation where the client can go through and comment on each selection. Most of the time, the stylist also comes prepared with accessories to accompany each outfit — belts and shoes, certainly, and for women jewelry and often also an idea about makeup and hairstyle. In some sense, the stylist's job is to help the client achieve a completed image from head to toe.
Usefulness to Designers and Fashion Houses
A stylist may also choose to work with corporate clients in the fashion world, particularly design firms and specific labels. When designers propose new ideas and create mock-ups of apparel for coming seasons, stylists are usually some of the first to give critical reviews and feedback. The stylist's expertise is often very useful in determining how versatile an outfit will be, or how well it may fit a range of body types; ideas about how a piece should be accessorized or marketed may also fall within this person's expertise.
Responsibilities During Shows
Professionals often work the hardest in the context of fashion shows, runway displays, and catwalk photo shoots. It is often the stylist's responsibility to see that each model is assigned a flattering and appropriate outfit; choosing accessories, ordering the ensembles, and making last-minute alterations as needed are usually also part of the job. Coordination with lighting experts and sound technicians to create the overall mood may also be required, as well as the flexibility to make last-minute changes in case of accident or other problem. Clothes that suddenly do not fit, do not look right in the lighting, or have unexpected rips or pulls are often referred to the stylist.
Training Requirements
There are many ways to break into the fashion stylist field, though the easiest is usually through a specialized degree or training program. Some universities offer fashion courses, and a number of art schools sponsor fashion stylist certificate programs. Pursuing a formal education is often a good way to make contacts in the field, and tangible experience is almost always an asset when looking for work.
It is often also possible to get started simply by having a good eye for style and carving out a niche independently. Many people who are interested in fashion design and styling start out by working as personal shoppers or stylists in department stores, or interning with designers. No matter how it is approached, the work almost always requires a lot of individual initiative and self-marketing.
AS FEATURED ON:
AS FEATURED ON:
By: Peter Atkins

A fashion stylist may work with a private client to create an individual look.

By: PhotoSG

A fashion stylist coordinates accessories with clothing to assemble attractive outfits.

By: adisa

A skilled fashion stylist designs pleasing retail displays.

By: gromovataya

Fashion stylists are part of the team that works on high fashion photo shoots.

By: .shock

Fashion stylists work behind the scenes at fashion shows.