What Does a Home Health Nurse Do?
A home health nurse provides personalized care in the comfort of a patient's home. They administer medication, monitor health progress, and educate patients on self-care. Their role is crucial in bridging the gap between hospital and home care. But how do they adapt to different home environments?
A home health nurse is a nurse practitioner or registered nurse who travels to patients' homes for the purpose of providing care. A home health nurse will sometimes visit a patient on a temporary basis, such as while he or she is recovering from surgery or an accident, or the nurse may be a permanent part of daily care, such as for patients living with severe illnesses or disabilities. Home health nurses also often provide palliative or hospice care for elderly patients or those suffering from terminal illnesses, such as cancer. This type of home care nurse might also supervise any other nurse's aides who are also working in the home.
Typically, only experienced nurses may become a home health nurse. This is because the job requires a great deal of specified knowledge, and the ability to make decisions independently, without constant oversight from a team of nurses or doctors. The nurse must also be very familiar with pharmacology and any prescription medications that the patient is taking, any special restrictions as specified by the doctor, or any other important information that may be relevant when providing care. A home health nurse must be extremely organized, self-motivated, and should enjoy working with people and their families.
It is very common practice for a home health nurse to specialize in a certain field of medicine, such as pediatric care, oncology, or orthopedic care, just to name a few. This specialized set of knowledge will be helpful and necessary when caring for patients with certain illnesses. Nurses who choose to specialize in a certain area will often choose to work with specific doctors for a long period of time. This is because it becomes easier over time to anticipate what the doctor will decide to do, and what his or her orders will be for patient care.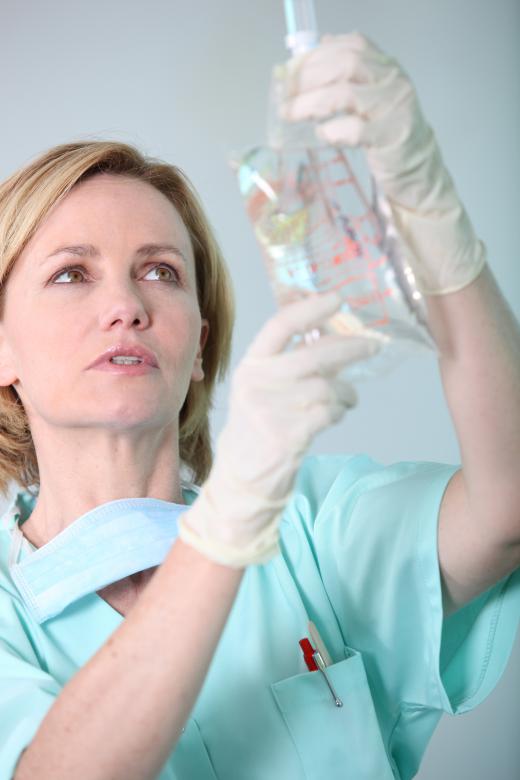 Some patients need round the clock care, so anyone who wants to become a home health nurse should be ready to work long hours at any time of day, any day of the week. There are many different tasks a home health nurse might perform while he or she is working these shifts. These might include things such as checking wounds for proper healing or administering medications, checking vital signs, and making assessments to prepare reports for the doctor. He or she might also assist the patient in performing daily tasks, such as bathing, although it is not the job of a nurse to clean a patient's home or cook meals for him or her.
AS FEATURED ON:
AS FEATURED ON:
By: Lisa F. Young

Home health nurses are trained to perform CPR.

By: auremar

A home health nurse may administer medications via an intravenous line.

By: Lisa F. Young

A home health nurse is responsible for providing medical care to patients in their home environment.

By: Lisa F. Young

Home health nurses help patients to stay in their homes rather than move into residential care facilities.

By: WavebreakMediaMicro

A home health nurse may choose to specialize in pediatric care.

By: Hunor Kristo

A home nurse may help keep an eye of an elderly person while their primary care person is at work.