What does a Press Secretary do?
A press secretary is a public relations professional. The media can play an important role and have a major effect on certain agencies and businesses, especially those associated with the government. For this reason, such a professional is needed to help an organization maintain a positive and consistent public image and direct the organization so it can effectively use the media to communicate with the public.
Duties common for press secretaries include staying abreast of the news and public sentiment regarding the organizations for which they are employed. They may have to respond to inquiries from media sources or members of the public. It is also common for these individuals to write speeches, press releases, and perhaps blogs. In some instances, organizations need to use the media as a tool and it may be the press secretary's job to know which venues are best and how to best approach them.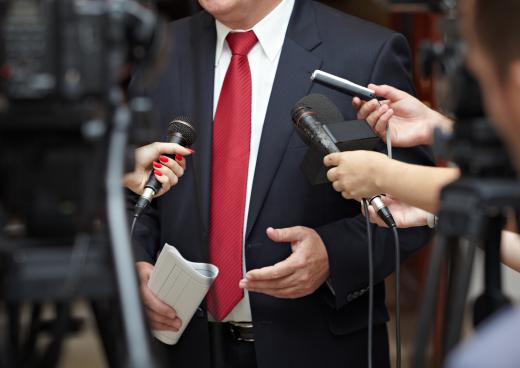 There are different levels of press secretaries. In the United States (US), for example, the White House has a Press Office. Within that office are professionals at various levels of their careers. The exact daily requirements for these individuals depend on their position. A deputy press secretary, for example, is likely to have different responsibilities than a senior press secretary.
The press secretary may also be the organization's spokesperson, but this is not always the case. Sometimes these professionals review and prepare information that will be relayed to or through the media, but they may not personally deliver the message. Instead, their roles may be to ensure that those who interact with the media and public do so in a manner that does not endanger the organization's positive image.
Press secretaries are usually employed by an organization that the media regularly focuses on or one that regularly interacts with the public, such as a large corporation, a government agency, or an official. It should be understood, however, that revenue alone does not generally determine the need for a press secretary. A mill, for example, can generate multi-millions of dollars annually, but since there is little interaction with the media and minimal interest in its affairs, it is not likely that the mill will need a press secretary. There may be instances, however, when a press secretary is temporarily hired. If the mill suddenly became a media focal point because of a controversy, it may decide that it is necessary to add a public relations professional to its staff until the situation dies down.
AS FEATURED ON:
AS FEATURED ON:
By: picsfive

A press secretary typically acts as a spokesperson when interacting with the media.

By: jiawangkun

The U.S. government employs a press secretary to serve as the White House spokesperson.

By: pressmaster

Press secretaries may create information releases.

By: arthurhidden

Press secretaries handle all external communication for a company.