What Does a School Receptionist Do?
School receptionists are professionals who support administrators in an educational environment by completing a wide range of office duties and providing customer service. These individuals must be outgoing and possess strong written and verbal communication skills in addition to having high school diplomas or the equivalent certifications. An individual who works as a school receptionist has the duty of meeting the needs of the public as well as managing his or her organization's written documents. He or she also is responsible for using office technologies appropriately and staying current on school corporation practices.
A chief duty of a school receptionist is to respond to the needs of members of the public. For example, he or she provides information to parents or students who visit the school office and directs them to the appropriate personnel or locations as necessary. This type of individual also responds to telephone calls, transferring callers to other employees or officials as required. As a result, he or she needs to have strong customer service skills and use proper phone etiquette regularly. Sometimes he or she might have to arrange for homework to be sent home to absent students or keep track of absence calls from students and parents as well.
Keeping track of an institution's paperwork constitutes another important task in a job position in this field. A person who is interested in becoming a school receptionist needs to be organized in order to obtain data, maintain school records, and distribute mail to office employees quickly and accurately. He or she might also be responsible for filing teachers' lesson plans and keeping a record of faculty members' absences in addition to other records.
Someone who works in this career area must additionally how to use office technologies. He or she should know how to operate office equipment such as facsimile machines or copiers, as well as use attendance software and computer word processing software to draft correspondence and reports for school leaders. For this reason, a school receptionist needs to have solid typing skills.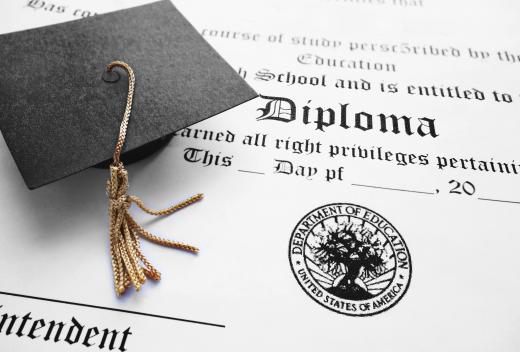 Staying up-to-date on a school district's policies is necessary when working in this industry. A professional in this vocational area has to keep abreast of his or her establishment's health and safety regulations to ensure that he or she works safely and maintains the safety of other students and guests. Keeping his or her knowledge of business technologies as well as techniques for completing tasks such as filing as current as possible is additionally necessary for a person who works as a school receptionist. He or she must be able to train new employees on any new protocols and procedures as well.
AS FEATURED ON:
AS FEATURED ON:
By: Elenathewise

A school receptionist answers calls from parents to a school's main office.

By: Tiler84

A school receptionist should know how to operate standard office equipment, such as fax machines and copiers.

By: zimmytws

A high school diploma or equivalent is normally required to become a school receptionist.

By: fusolino

Receptionists may be in charge of ordering office supplies.

By: Hallgerd

School receptionists are typically responsible for calling parents when children become ill.