What does a Telephone Operator do?
A telephone operator typically performs tasks that cannot easily be automated. In addition, these people are usually trained to take over most automated tasks in the event of computer failures or other system issues. This would normally include directory assistance and connecting calls.
Collect calls normally require the assistance of a trained telephone operator. This is a type of call in which the person the call is being placed to must agree to accept any charges associated with it. These types of calls are usually long distance, but can also be placed locally. A local collect call would normally be used from a pay phone, in the event the caller did not have funds to pay for the phone use fee.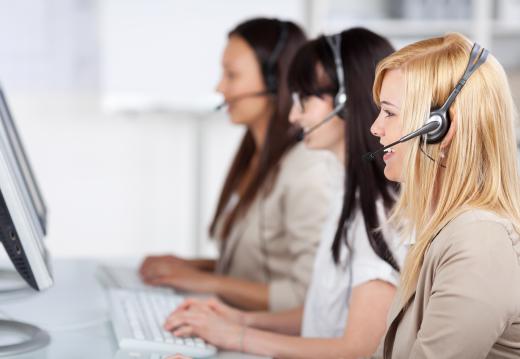 Some long distance calls are placed via a method called person-to-person, which usually requires an intermediary. This type of call is typically collect, and the caller has to state his name and the name of the person he is calling. The person receiving the call has the option to accept the call, even if he or she is not the intended recipient. If the intended recipient is not available, he or she can decline the call and the charges.
In some instances, callers may attempt to access directory assistance only to find the number they are looking for is not listed. This usually occurs with new listings that have not yet been indexed or recorded in databases. An operator will typically have access to new listings, even if they have not yet been computerized.
Sometimes, callers need an address for a location, as well as the telephone number. Most of the time, an operator can give both an address and telephone number for both new and established listings. This is probably one of the more common types of assistance that operators offer to the public.
Switchboard operators are telephone operators that do not work for a telephone company, but instead manage telephone systems for large companies. Their jobs are sometimes a mix between receptionist duties and call connections. Switchboard operators are becoming less and less common as most companies have their communications handled by automated systems.
Pay scale for telephone operators can vary greatly, depending on location and company. Education requirements for these jobs are minimal, and many companies offer on-the-job training to their new hires.
AS FEATURED ON:
AS FEATURED ON:
By: contrastwerkstatt

Performing directory assistance and connecting calls are common tasks for telephone operators.

By: auremar

Telephone operators typically wear headsets, and are responsible for handling a high volume of calls in a efficient manner.