What does a Visiting Nurse do?
A visiting nurse provides medical care to patients in their homes, often for those recovering from surgery or managing chronic illnesses. They administer medication, monitor health progress, and educate patients on self-care. How does this personalized care impact patient recovery rates? Let's explore.
A visiting nurse provides care for patients in their own homes or assisted living facilities. He or she typically makes several rounds a day, visiting different clients to perform routine evaluations, administer aid if necessary, and check in with caregivers. Most visiting nurses are employed by home health care agencies and nonprofit community organizations, though some professionals work for hospitals and government assistance agencies. A skilled visiting nurse with advanced credentials may also be self-employed.
The specific duties of a visiting nurse vary depending on his or her employer and the types of patients seen. Clients of large home health agencies often have part- or full-time caregivers who are responsible for hygiene and daily care. A nurse speaks frequently with caregivers to determine how well patients are doing and if they think that additional care is necessary. When evaluating a patient, the nurse takes vital signs, dresses wounds or bed sores, changes catheters, and performs other medical services as needed. Visits typically are carefully documented to keep track of progress and medication regimens.
A visiting nurse who is self-employed or works for a small agency typically handles a larger set of responsibilities. If clients do not have full-time caregivers, the nurse may take over duties such as giving baths, dressing patients, doing laundry, and preparing meals. It is important for a nurse to be friendly, respectful, and empathetic at all times in order to establish feelings of trust with their patients.
Most visiting nurses work standard, eight-hour shifts, though hours can vary considerably depending on day-to-day situations. Many visiting nurses assume on-call status when they are not on the clock, making themselves available in the case of emergencies. A nurse who establishes close friendships with patients might even make unscheduled visits simply to provide company.
A person who wants to become a visiting nurse generally needs to obtain an associate's or bachelor's degree and pass national registered nurse licensing exams. Most professionals begin their careers in general hospitals and emergency rooms to gain experience and firsthand knowledge of a large number of different patient types and conditions. With experience, a nurse can research different employers in his or her region and submit resumes. A new visiting nurse typically spends several weeks or months shadowing an established worker to learn about specific duties, policies, and routines.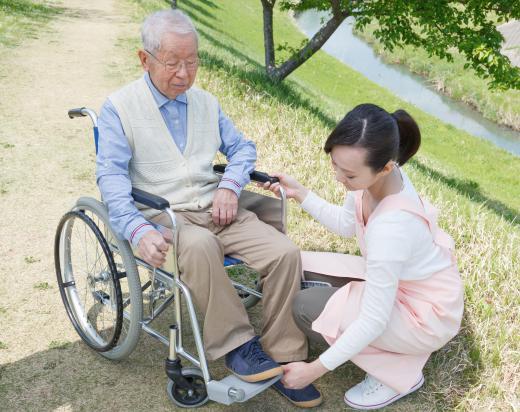 Many visiting nurses decide to pursue continuing education in order to improve their credentials and chances for career advancement. A nurse practitioner degree allows an individual to provide a wider range of services, perhaps including writing prescriptions and making new diagnoses. A professional may also decide to take business management courses to obtain an administrative position within a home health or government agency. As an administrator, he or she can help to initiate new policies to improve patient services and provide better benefits for working nurses.
AS FEATURED ON:
AS FEATURED ON:
By: Robert Kneschke

A visiting nurse typically makes several rounds per day.

By: Lisa F. Young

A visiting nurse may provide care for patients in their home environment.

By: SeanPavonePhoto

New nurses often find entry-level employment in emergency rooms.

By: mykeyruna

A visiting nurse may take the elderly outside for fresh air and sunshine.

By: michaeljung

Most visiting nurses work standard, eight-hour shifts.