What does a Voice Coach do?
A voice coach is a professional who works with anyone who wants to improve their voice, either for speaking or singing. There are many ways that one can improve one's voice, either by minimizing an accent to appear on television, learning a different accent to speak in a role in a performing role, or improving one's singing ability, just to name a few. A voice coach is typically a professional who has studied voice training.
A voice coach differs from a speech pathologist, who works with people with speech impediments or other speech difficulties. Generally, someone taking lessons from a vocal coach does not have any speech problems, but simply wants to improve on what they already have. A voice coach might also work as an acting coach, or may work in conjunction with a separate acting coach. One might also refer to this type of coach as a singing coach.
Voice coaches frequently work with people who want to work in communications, but need to improve their articulation and diction. The coach will give the client various exercises to do, and other practices that are designed to improve one's ability to articulate, and remove any discernible accent from one's voice. People who want to work in news media, for instance, generally do not have any accent at all. This is because an unaccented voice is most appealing to the largest demographic.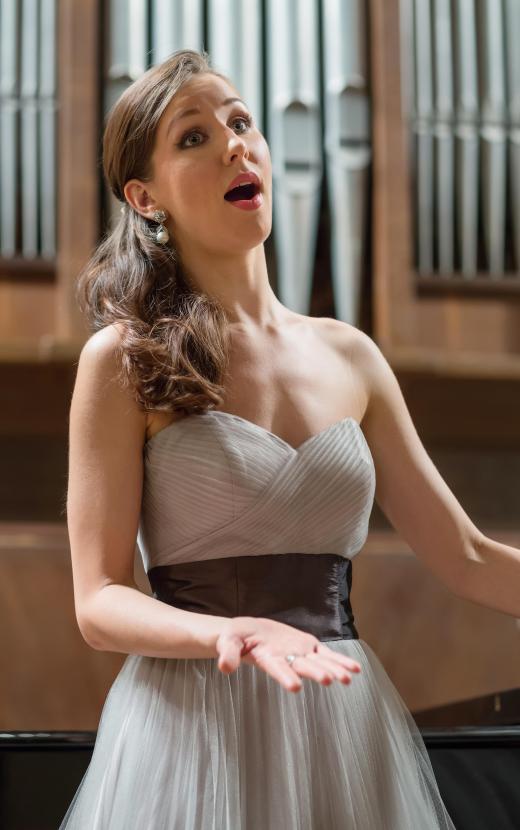 A voice coach may also work with someone to help his or her voice become clearer and stronger, which can be beneficial for both speaking and singing. Singers may take weekly voice lessons to strengthen their voice, develop better pitch, practice scales and songs, and learn other vocal exercises to improve their singing voices. Actors may work with a voice coach to learn how to project their voice to reach a large audience, or to develop a believable accent for a role in a play.
A vocal coach will usually always charge a fee for lessons, that must be paid up front. Some vocal coaches are multi-faceted, and may also offer lessons on instruments such as the piano or the guitar, for example. People of all ages can benefit from vocal coaching, if it is deemed necessary; some parents put their children in voice lessons very early in life if they are showing promise with their singing ability, because it will allow them to fully develop their skills early in life.
AS FEATURED ON:
AS FEATURED ON:
By: raduga21

Singers who want to improve might turn to a voice coach.

By: Pavel Losevsky

Voice coaches help singers develop pitch and strengthen their voice.

By: David Stuart

Voice coaches may help actors who want to provide voice work on animated films.