What Does an Area Operations Manager Do?
An area operations manager is a person who is responsible for overseeing multiple stores within a designated locale. Being successful in this position usually requires an individual with an analytical mind and sound leadership skills. In most cases, an area operations manager will need a bachelor's degree in business or a related field and at least five years of experience. While the exact industries that a person may in work in can vary, his essential job duties are the same. These include hiring and training staff, monitoring area stores, evaluating performance, providing feedback and tracking sales data.
Hiring and training staff members is an integral part of being an area operations manager. It's his responsibility to ensure that each store within his area is staffed by knowledgeable and dedicated employees. For smaller areas with only a few stores, he might personally hire and train every staff member. In areas with numerous stores, he will typically hire and train only supervisors who will be responsible for acquiring other staff members.
Another large part of this job revolves around monitoring each area store. This usually includes making periodic visits to check that each store is operating efficiently and complying with company guidelines. In addition, the area operations manager may provide customers with surveys to comment on a store. Some things that he may look for include store cleanliness, organization, customer service and personnel work habits. Since he must monitor multiple stores, this job often requires significant travel.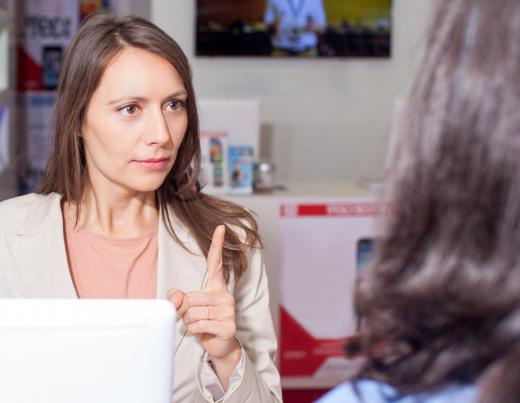 Along with this, an area operations manager will consistently evaluate the performance of each store within his area. To ensure customer satisfaction and remain competitive, it's necessary for an individual to accurately assess the strengths and weaknesses of each store. Accomplishing this involves looking for patterns and providing feedback. For example, a store might be well organized and clean, but have a history of poor customer service. As the area operations manager uncovers information, he will reward or correct each store accordingly.
In addition, it's necessary for an individual to track the sales data from each store within his area. This can involve comparing the sales numbers from an individual store with the average sales numbers of other stores. Other times, this may involve comparing a store's current monthly revenue with past monthly revenue. Performing this action is crucial for maintaining the company's financial stability and staying competitive within the industry. Consequently, it's helpful for an area sales manager to have solid mathematical skills and the ability to analyze data.
AS FEATURED ON:
AS FEATURED ON:
By: Gianluca Rasile

Area operations managers must oversee multiple locations.

By: Adam Gregor

An area operations manager may handle customer complaints during store visits.