A copilot is a trained professional who assists the pilot in operating an aircraft. They share responsibilities for flight tasks, ensuring safety and efficiency. Copilots are crucial in aviation, providing an extra layer of security. But what does a day in the life of a copilot look like?
A copilot is a person who is fully qualified to fly an aircraft and sits alongside the pilot, also known as the captain. While the pilot is the person primarily responsible for handling the aircraft, the copilot can provide relief to allow the pilot to take breaks, as well as intervening in emergencies. In order to become a copilot, it is necessary to receive pilot training and to certify to fly a given type of aircraft in addition to receiving a medical certificate from aviation authorities that provides authorization to fly.
On long-haul flights, the copilot is a critical member of the crew. The pilot and copilot can take turns handling the aircraft, allowing each other to take breaks that allow them to rest and stretch. This reduces the risk of accidents caused by fatigue. Tired pilots can make errors as they become disoriented or confused, lose track of the tasks they are completing, or have difficulty operating equipment because they are tired and their response times are sluggish.
For shorter flights, a copilot may not take over flying the plane, but is available to run some of the systems on the aircraft and to provide breaks if the pilot needs them. Copilots can also be consulted in the process of making decisions about the aircraft and may make announcements over the plane's public address system to keep cabin crew and passengers updated on important information related to the flight.
On commercial aircraft, people usually become copilots on their way to certifying as captains. As people acquire experience on aircraft, they can be promoted into more senior positions on flight crews. Copilots can work on a variety of aircraft covering a range of routes to grow familiar with airline routes and policies in addition to becoming experienced with the handling of commercial aircraft. Private airlines may hire people directly into pilot positions and their staff may take turns piloting and copiloting fleet aircraft, depending on how the company is organized.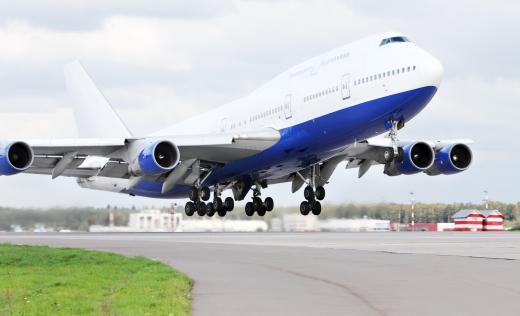 Someone who wants to become a pilot has the option of pursuing military flight training and then applying for civilian jobs after separating from the service or attending a civilian flight school. In either case, the trainee will spend time in the classroom as well as on flight simulators and in actual aircraft. This is designed to prepare the trainee for safely flying aircraft in a variety of settings and situations.
AS FEATURED ON:
AS FEATURED ON:
By: hallucion_7

The copilot of a long haul, wide-body commercial jetliner, like the Boeing 747, usually has had experience commanding smaller passenger aircraft.

By: pixel974

The copilot on a commercial aircraft may be taked with handling radio communications while the pilot is engaged in making course corrections.

By: Pavel Losevsky

Copilots may be tasked with handling take off or landing procedures.