What is a Legal Secretary?
A legal secretary is an administrative assistant who specializes in the field of law. He or she assists lawyers by preparing legal documents. Legal secretaries are employed in law firms as well as the legal departments of insurance companies, corporations and real estate firms. Completion of a legal assistant training program of up to a year in length is a common educational requirement for many legal secretary positions.
Transcription and legal terminology are two main areas of secretarial training in the field of law. While typing legal documents and correspondence is often the main duty of a legal secretary, he or she may also answer phones, greet clients and schedule appointments. In larger law firms, a receptionist may perform those duties while legal secretaries are responsible for filing, preparing and typing up legal paperwork. Legal secretaries often specialize in a certain type of law, such as family, contract or wills and estates.
Fast keyboarding and good computer knowledge are expected in most legal secretary positions. A typing speed of at least 60 words per minute (wpm) is a common expectation. Using file management systems and transcribing a lawyer's dictation into letters or other correspondence are completed by many legal secretaries. Using technology such as voice mail, legal computer software and photocopiers is a typical part of most legal secretaries' workdays. In smaller companies, accounting tasks may be a part of a legal administrative secretary's job description.
If a legal secretary works for a trial lawyer, he or she may accompany the attorney to court to take notes for the case's files. Most legal secretaries are required to work both independently and as part of a team. Some secretaries research legal journals and law books to help lawyers on cases. Client confidentiality must be respected at all times. Attention to detail and an ability to follow through on legal cases are other important characteristics of successful legal administrative assistants or secretaries.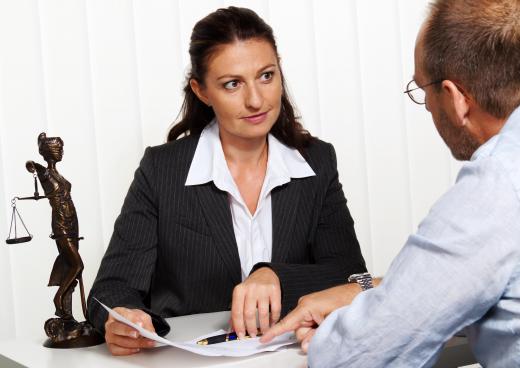 After several years, a legal secretary may be promoted to a supervisory position. After completing more legal courses, or obtaining a certificate or degree, he or she may be eligible to become a paralegal. Paralegals differ from legal secretaries in that they are responsible for more law-related rather than administration-based work. For example, a lawyer may supervise a paralegal in writing legal drafts, whereas a secretary would just prepare and type the documents. In some areas, the term legal assistant can be confusing, as it may refer to either a paralegal or legal secretary.
AS FEATURED ON:
AS FEATURED ON:
By: Elenathewise

Legal secretaries take messages and retrieve records for the firms they work for.

By: lightpoet

A legal secretary will be responsible for using technology such as photocopiers.

By: Gina Sanders

A legal assistant assists lawyers by preparing legal documents.

By: katarinagondova

Legal secretaries often type of documents for attorneys.