What is a Marketing Promoter?
A marketing promoter is someone who promotes a product, service, venue, or concept to potential consumers or clients. Marketing promoters can work in a wide variety of industries. They may enter the profession through work experience, finding employment in marketing departments and slowly gaining skills which allow them to work as promoters, or they may attend college or university to get a formal education in marketing promotion. Marketing promoters are key to the success of companies ranging from exclusive clubs to manufacturers of TV dinners.
Like other people in the marketing field, a marketing promoter wants to get members of the public familiar with the product he or she represents, creating a positive image and leading consumers to use that product. Marketing promoters help to organize marketing campaigns, keeping the mission statement and tone of the company in mind, and they also establish a wide variety of personal connections which they can use for promotions. The promoter often has a great deal of influence over the image, tone, and style of the company.
A marketing promoter might work with the film and television industry to get products placed in movies and television shows. Marketing promoters can also work for entertainment venues, making bookings and establishing connections which allow them to book highly desirable acts. A marketing promoter can also arrange a variety of advertising campaigns, from decorating bus shelters to coordinating events with community charities to promote a company's public image.
Connections are key for a marketing promoter. While an innovative mind and creative skills are desirable so that the promoter can come with promotions which are unusual and distinctive, it is connections which will allow a promoter to succeed in the industry. Connections can be valuable for everything from cutting through bureaucratic red tape in a city where a promoter wants to hold an event to getting a famous athlete to endorse a company's product.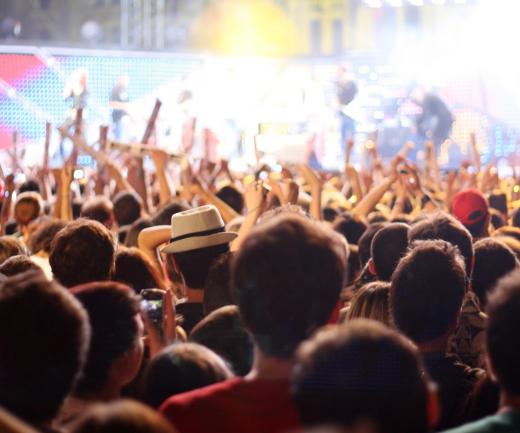 Marketing promoters need to be constantly on the lookout for new connections, new talent, and new ideas. They may spend a great deal of time cultivating connections in phone calls, at private lunches, and at social events. As a result, a marketing promoter needs to have excellent people skills and a professional, appropriate presentation at all times. Work in this field can be highly demanding, as promoters can work long hours and they need to be able to travel, adjust their hours to deal with specific events, and deal with difficult clients, all with a smile.
AS FEATURED ON:
AS FEATURED ON:
By: tab62

A marketing promoter may be required to work long hours.

By: pressmaster

A marketing promoter for a club might target their efforts on young adults.

By: Moreno Novello

A marketing promoter might promote concert events.

By: bloomua

Marketing promoters may craft text reminders to send to fans.

By: florinoprea

Some concert promoters market events at a specific amphitheater or other venue.

By: donfiore

Marketing promoters may work with bars to advertise specialty drinks.