What is a Retail Merchandiser?
A retail merchandiser is the person who creates displays in stores for a particular manufacturer's brand. She traditionally travels among several retail locations on a regular basis to maintain the inventory of her employer. The stores in which the merchandise is sold may be independently owned or part of a large retail chain.
A manufacturer depends on a retail merchandiser to promote the company's products to make the most money possible. The retailer commonly desires the same results for the store in which the goods are sold. A successful retail merchandiser typically uses her business expertise and merchandising skills to satisfy the needs of both entities.
In addition to ensuring inventory levels are properly maintained, a merchandiser is normally relied upon to create eye-catching displays that positively distinguish her company's products from competitors. This normally requires her to work closely with retail managers. With their assistance, she typically determines how much space she can use and what guidelines apply to her displays to avoid infringement on another company's shelf or floor space.
Being a successful retail merchandiser generally requires a good knowledge of market trends and being able to predict what consumers will want before they do. This often requires her to conduct research on what products will be introduced months before they are actually available for purchase. Based on the information she uncovers, a retail merchandiser can accurately plan stock levels and design displays to give the products maximum exposure in the appropriate retail locations.
Keeping accurate records is a common prerequisite to excel in this position. Aside from maintaining inventory level logs, reports are generally required reflecting unprofitable products and promotions, feedback from store managers and customers and ideas for upcoming retail events. If issues with suppliers or competitors are encountered, a retail merchandiser is normally expected to communicate them to her superiors.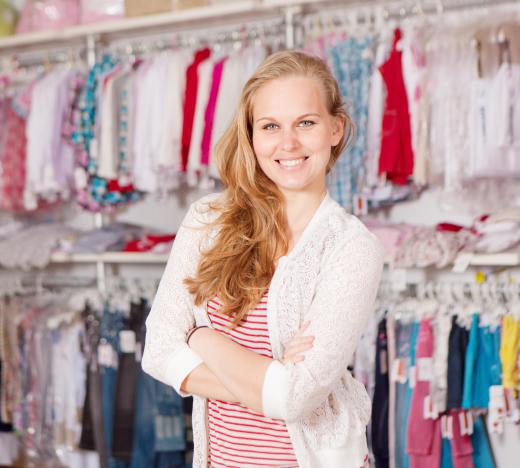 A retail merchandiser is generally expected to negotiate with a retailer on her employer's behalf if a situation demands immediate attention. If a store's floor plan is altered or she finds products in her designated area from another manufacturer, she is commonly expected to expediently resolve the matter with finesse and professionalism. She may also be required to interact with management if store personnel are unclear on how the displays she creates should be properly maintained for maximum sales.
This position traditionally requires the applicant to have a high school diploma or equivalent. Some employers prefer a degree in retail management or marketing. Experience in merchandising or retail sales can give a candidate a more competitive edge.
AS FEATURED ON:
AS FEATURED ON:
By: mangostock

Retail merchandisers must keep up with market trends in their specialties.

By: Pavel Losevsky

A retail merchandiser may create displays in stores.

By: adisa

Retail merchandisers may decide which products should be highlighted in a store.

By: godfer

Retail merchandisers may be in charge of their own stores.

By: Robert Kneschke

A merchandise manager typically decides which items the store will promote, based on price, aesthetics, industry trends, and other factors.