What is a Warehouse Supervisor?
A warehouse supervisor manages daily operations at a warehouse, typically overseeing a team of employees. Warehouses act as storehouses for a flow of goods moving to and from different points, making inventory control a critical part of the job for a warehouse supervisor. Warehouse supervisors have no special education requirements, but they generally have experiences in warehouses and storerooms, and they may need to possess qualifications to drive forklifts and commercial trucks.
As supervisors of the daily operations in warehouses, warehouse supervisors are concerned with keeping the flow of goods in and out of the warehouse smooth. They manage the inventory, ensure that it is arranged logically and efficiently, and direct their employees as they process incoming and outgoing goods. Incoming shipments must be checked against bills of lading and entered into inventory, while outgoing goods must be packaged properly and accompanied with their own bills of lading.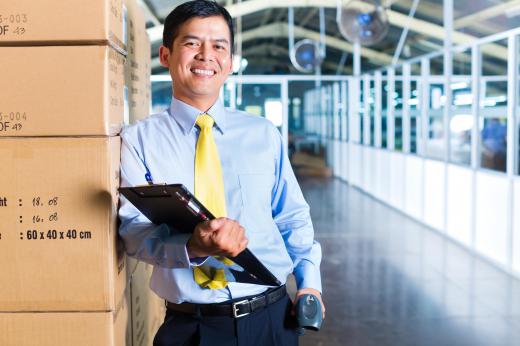 Safety is another concern for a warehouse supervisor. A working warehouse can be a busy place with many potential risks, including injuries from improperly stacked boxes, hazardous materials, and heavy machinery. A warehouse supervisor is in charge of ensuring that employees are safe, which includes providing proper safety training and equipment, confirming that the workplace conforms with safety standards, and personally inspecting the warehouse for any safety issues which may arise.
Warehouse supervisors are also in charge of hiring and firing personnel for the warehouse, which includes conducting interviews with job applicants, assessing current employees, offering raises and promotions where appropriate, and letting employees go when they are no longer needed. The warehouse supervisor also maintains employee records, including proof that employees can legally work, employment records, and other information which must be securely stored to maintain confidentiality for employees.
In many cases, a warehouse supervisor needs computer experience, as inventory is increasingly managed by computer. In addition to being comfortable with computers in general, warehouse supervisors need specific trainings in the programs used at their warehouses, which can include automated ordering systems and inventory management systems.
Employers may promote warehouse supervisors from within their own staffs, taking advantage of the experience that their staff members have. Companies can also hire from outside the company, in which case candidates will be evaluated to determine whether or not they have the experience and skills to succeed as warehouse supervisors. Many warehouse supervisors have assistants, and working as an assistant warehouse supervisor can be an excellent way to prepare for taking on the head position.
AS FEATURED ON:
AS FEATURED ON:
By: Kzenon

A warehouse supervisor might work in an office and out on the floor.

By: Monkey Business

Warehouse supervisors oversee the workflow and environment of the warehouse.

By: Ken Pilon

Warehouse supervisors manage daily operations of a facility.

By: Photographee.eu

Warehouse supervisors are responsible for inventory control.

By: Monkey Business

Warehouse supervisors must oversee a team of employees.