How do I Become a Radio Talk Show Host?
There are many ways to become a radio talk show host, including getting some form of education, finding representation, and applying for jobs. The path isn't always well defined, and some people without any radio broadcasting experience become popular hosts. Others get formal education or have expertise in a subject matter that might engage listeners. The field is competitive and many people who try to get a job in this area don't, despite strong training and skills.
A few high schools offer training in radio hosting or options to participate in campus radio stations. More often, people need to wait to attend college or certificate programs after high school before working in radio. The most formal training path is earning a bachelor's degree in journalism, broadcast journalism, or communications, You should take your general education studies at this level seriously, because hosting a show often means that you'll need basic, correct knowledge about general topics. Repeating a lot of misinformation can damage your credibility.
While in college, students who want to become a radio talk show host should work for the campus radio station. It's important to learn more than just theory when studying, and by hosting your own show, you're learning by doing, becoming more comfortable as a host. Students can also use recorded examples of their early broadcasts to critique and improve their performance.
Another option is to attend a school that focuses specifically on broadcast journalism. Some of these schools are connected to drama or acting schools because hosting is "acting" to a degree and one of the performing arts. Other schools don't have this connection.
When considering a broadcast school, you'll want to think about how many years the program will take to complete. Some schools offer certificates, while others will award a bachelor's or other degree when you successfully complete the program. It's usually best to choose a school with a good reputation and a program that is accredited. Any school promising a career in this field ought to be avoided, as this industry is competitive and not everyone who wants to become a radio talk show host is successful.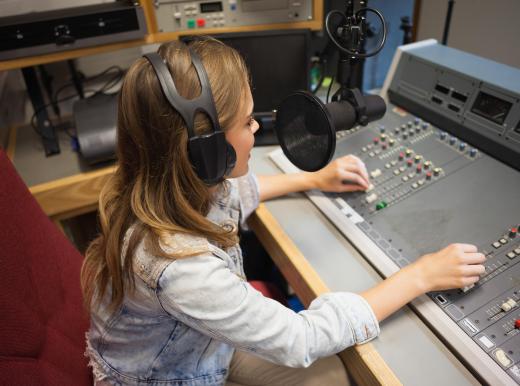 Another option is to have strong expertise in an area that radio stations think will engage listeners. Many radio stations hire therapists or psychiatrists, doctors, tool experts, financial experts and others, or they hire people who principally have a background in stand-up comedy. Some people combine subject expertise with broadcasting training, and this may be a winning combination.
If you have on-air training, you'll accumulate tapes of your performance that can be circulated to local radio stations. Having an agent to do this work can be of value, but not all people get agents before they land their first job. An agent can continually promote you to bigger stations as you establish your hosting career. That being said, few people who become radio talk show hosts will ever achieve national prominence.
AS FEATURED ON:
AS FEATURED ON:
By: dmitrimaruta

Many talk show hosts have a radio background.

By: Sashkin

Radio talk shows can be heard with radios, which receive signals from radio stations that broadcast talk shows.

By: WavebreakmediaMicro

Having a strong expertise in an area that would engage listeners is beneficial to becoming a radio talk show host.

By: On-Air

People with on-air training may circulate their tapes to local radio stations.

By: diego cervo

Radio stations may hire talk show hosts who have a background in stand-up comedy.