How do I Become a Retail Sales Associate?
Retail sales associates are salespeople who work in specialty shops, department stores, and home improvement retailers, among other retail establishments. Some of the responsibilities of a retail sales associate include assisting customers by providing excellent customer service, generating sales, advising customers on items to purchase, answering questions, and having extensive knowledge of the products they sell. To become a retail sales associate, you'll usually need to have some sales experience already.
Many people who become retail sales associates start out as a cashier on a register or in the customer service department. This way, they get to learn the way the business works, as well as the best ways to deal with customers, before being expected to make sales. Those who excel in these departments may then be able to be promoted to a retail sales position.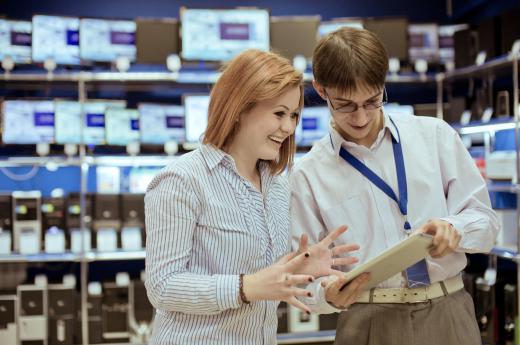 Retail sales associates typically have high school diplomas, but specific educational requirements beyond high school are generally not necessary. Someone with experience as a sales associate already will find it much easier to find new jobs; it will generally require just an application and a short interview process. It is especially important for someone who is trying to become a retail sales associate to appear confident and knowledgeable in an interview, as well as to dress professionally and arrive on time. An interviewer might even have applicants try to sell him or her something to assess their sales skills.
Once a retail store has hired a new sales associate, he or she will likely have quotas to meet. Those who want to be successful will need to work hard to meet their sales goals, or risk being fired. Many salespeople earn a commission when they make a sale, particularly in specialty shops or auto dealerships. Retail sales associates should be knowledgeable about their particular industry; for instance, an auto salesperson should know what type of car would better suit an individual or a family, and a clothing salesperson should keep up with current trends in fashion and style.
It is important for a retail sales associate to always make the sale without making it seem as if he or she is trying to talk the customer into purchasing something. Salespeople need be personable, have friendly personalities, and enjoy making conversation with different people. They should greet customers who come into the store or their department and make thoughtful suggestions for purchases based on the customer's needs.
AS FEATURED ON:
AS FEATURED ON:
By: jura

A retail salesperson is generally expected to be informed enough about product specifics to answer detailed customer inquiries.

By: mangostock

Woman selling sunglasses.

By: CandyBox Images

Good customer service skills are important to becoming a retail sales associate.

By: Andres Rodriguez

A car salesman is one example of a retail sales associate.

By: Lisa F. Young

Many retail sales associates start out as cashiers.

By: Wrangler

Someone looking to work in clothing retail should keep up with the latest trends in fashion and style.

By: Robert Kneschke

In general, retail sales associates work the sales floor, helping shoppers select the best products for their specific needs.