How do I Become a Talk Show Host?
To become a talk show host, there are certain requirements that simply can't be taught. You must enjoy speaking and communicating, but a burning curiosity is a far more important trait. The reason for this is that people love to talk about themselves. Your job is to ask penetrating questions, to convince a guest to open up, and to gain their trust to such a point that they reveal thoughts and opinions that might otherwise remain hidden. If you want to gain the reputation of being a great talker, then you must first be a great listener.
Talking and listening are only the beginning steps if you wish to become a talk show host. You should have a quick wit, be able to think on your feet, and improvise with reckless abandon. The best sort of talk show integrates fact, humor, sparkling repartee, and emotion. To become a talk show host, you need to be a reader of people, one who can elicit the highs and lows of both guest and audience.
You should also have an ample dose of confidence, because a nervous or shy talk show host is something of an oxymoron. If your preferred venue is radio, you should be very comfortable with a visible audience that consists only of a microphone, an engineer, and perhaps a call screener. You must adore the sound of your own voice. If your medium is television, and includes a live audience, you must have charisma, stage presence, and the abilities of a talented actor.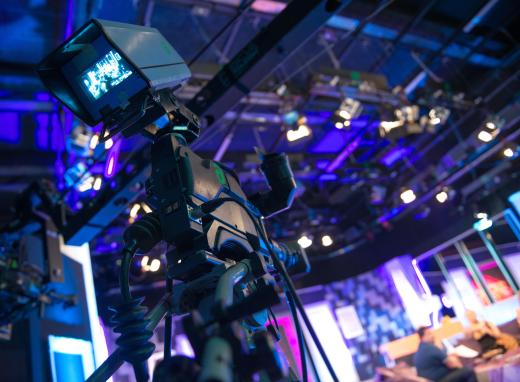 Technically, education plays a big role for those who seek to become a talk show host. A degree in journalism, media, TV and radio, or drama is very helpful. Attendance at a private broadcasting school is also good. This is not the sort of job that just falls into one's lap, and you will usually have to build a track record by working as a reporter, deejay, or anchor.
Many media outlets – local, regional, and national – offer internships for those who wish to break into the business. If the opportunity arises for one of these coveted spots, do not turn it down. Not only will you gain invaluable experience, you will also begin making contacts in the industry. Most talk show hosts gain their jobs because a producer or network executive noticed their talent and dedication, and decided to give them their "big break." Media is the type of business, much more so than any other, where who you know is just as important as what you know.
AS FEATURED ON:
AS FEATURED ON:
By: WavebreakmediaMicro

A radio talk show host must have confidence.

By: DeshaCAM

Good communication skills and curiosity are among crucial traits for a successful talk show host.

Ryan Seacrest is an example of a radio show host who also serves as a host of television programs.