What Does a Fire Commissioner Do?
A fire commissioner oversees fire services for a specific jurisdiction. Fire commissioners' job duties generally are split into two categories—supervision of fire services provided and management of business policies, such as budgets and personnel. A commissioner's jurisdiction can vary from local to regional levels, depending on the position. Depending on local laws, a fire commissioner may be appointed to the position by another government official or elected into office.
A fire commissioners' supervision of fire services covers many areas, though specific duties depend on the size of the jurisdiction. Primarily, a commissioner will ensure that fire departments are effectively supplying firefighting services and have the necessary equipment to do so. Fire commissioners may also lead investigations into major or suspicious fires and are usually responsible for non-emergency services provided by the fire department. These may include enforcement of fire and building codes, issuing citations for noncompliance, oversight of fire safety inspections and community fire prevention education.
At the local level, fire commissioners are typically part of a larger fire commission board. The board sets the mission for the local fire department and individual commissioners are responsible for implementing measures to achieve that mission. The commissioners in small provinces also tend to have a hands-on role in firefighter personnel policies, such as hiring, firing and promotion decisions. Fire commission boards at the municipal level in the United States often have the power to levy taxes for fire service provided to the community and as such, the commissioners are usually elected to office.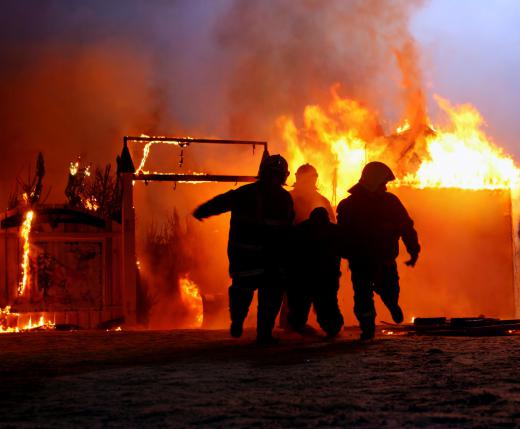 In larger jurisdictions, such as major cities, a fire commissioner is more likely to be appointed by an official. The commissioner also is more likely to act alone instead of as a member of a larger fire commission board. City and regional fire commissioners usually play a more supervisory role and delegate day-to-day management decisions, such as hiring and firing, to fire chiefs. A fire commissioner in a larger district often appoints subordinates, such as fire chiefs and deputy fire commissioners as well.
There is no one set of requirements to become a fire commissioner. Often, commissioners have a strong background in fire service and have worked as a firefighter or emergency responder. Fire commissioner salaries vary by location and depend on responsibility level and experience. At the municipal level, the position may be on a volunteer basis or provide a nominal fee for part-time service. Full-time fire commissioners for major cities or regions can expect to earn a salary in line with other supervisory positions.
How Much Does a Fire Commissioner Make?
As of February 2022, fire commissioners in the United States earn an average salary of about $68,200. This works out to nearly $6,000 per month or just over $1,300 per week. It is important to note that the salary varies greatly depending on where the fire commissioner works. Those in rural areas are likely to make less than those who work in large cities. In some areas, fire commissioners make as little as $22,000 annually, but in others, they can make nearly $150,000 a year. Skill levels and experience levels may also factor into how much a fire commissioner makes.
What Does a Fire Commissioner Do?
A fire commissioner, who is sometimes referred to as a fire marshal, is considered a member of a state, province, or territorial government. Sometimes, they are part of a building's department. Their duties vary greatly but often include enforcing local, state, or federal fire codes. As experienced firefighters, they often become sworn-in law enforcement officers, especially in larger cities.
Some fire marshalls will carry a weapon or wear a badge. They may wear a uniform but can wear plain clothes as well, depending on the situation. A fire commissioner may drive marked or unmarked cars and can make arrests for arson charges or other fire-related offenses. They often also perform inspections on buildings to ensure they are up to fire code.
Duties and Responsibilities of a Fire Commissioner
At its most basic, a fire commissioner is part law enforcement and part firefighter. This means that they are often part of arson investigations. Many are fire inspectors, but sometimes they will simply work alongside someone who is a fire inspector. Fire marshals also have very specific duties and responsibilities.
Emergency Preparation – Fire commissioners are responsible for ensuring that all public buildings have working fire exits, have fire safety plans, and are up to code to prevent fires.
Public Education – Many fire commissioners provide public education by hosting fire safety weeks, going to schools to teach kids about fire safety, and more.
Investigation and Reporting – Unexplained fires or explosions must be thoroughly investigated to find the source and ensure it doesn't occur again.
Writing – Although many people don't realize it, fire commissioners must be excellent communicators. They have to use public forums, such as writing newspaper articles or speaking at public meetings, to promote public fire safety.
Training and Evaluation – In many cases, a fire commissioner is responsible for setting up training and conducting evaluations for people who hope to become firefighters or other types of emergency responders. 
How To Become a Fire Commissioner
The requirements for becoming a fire commissioner vary greatly from region to region. Typically, someone who wants to be a fire commissioner must have a strong background in fire service and have already worked as an emergency responder of some type. On average, a fire commissioner should have a bachelor's degree or master's degree along with his or her experience.
Most of the time, a fire commissioner needs to start from the ground up. For many, this means starting by volunteering at your local fire department. Volunteering helps you to learn the basics of fire experience, which will help you along the path to becoming a fire commissioner.
It is also a good idea to get secondary fire service education. This may include training in law enforcement, forensics, emergency medical services training, or fire science training. Many prospective fire commissioners also take courses at the National Fire Protection Agency to pass certification exams. These courses may include structural building codes, fire suppression techniques, alarm operation, burn patterns, and even forensic data recovery.
Keep in mind that once you become a fire commissioner, your education will not end. You will need to continue educating yourself as new firefighting technology comes out in order to maintain your position as the commissioner.
How To Apply To Be a Fire Commissioner
Once you receive the training and have the experience to become a fire commissioner, it will be time to apply for jobs. Because duties vary so greatly, you'll want to learn what will be expected of you. You may need to do everything from overseeing thousands of fire investigations per year to overseeing fire training colleges. Some fire commissioners are even responsible for overseeing hazardous waste situations. Outside of knowing what duties will be expected of you, the application process is quite easy and straightforward. Keep in mind that you may need to become a deputy fire marshal before becoming the fire marshal.
Do You Need To Vote a Fire Commissioner?
Yes, citizens do vote on the fire commissioners. However, much of the time, people do not show up for fire commissioner elections and current commissioners win by default. Every state has its commissioner elections on its own terms. If you are not sure when to vote on your fire commissioner, contact your local board of elections for more information.
Frequently Asked Questions
What exactly does a fire commissioner do?
An elected person tasked with managing a local fire service is known as a fire commissioner. They often hold their positions via appointments or elections and may work in a range of environments, including big cities or rural areas. Fire commissioners may be in charge of creating and enforcing fire safety regulations, overseeing finances and staff, and collaborating with other local authorities to make sure that efforts to prevent fires and respond to emergencies are coordinated and successful.
What qualifications do I need to become a fire commissioner?
Depending on the jurisdiction in which you reside, there may be differences in the requirements for becoming a fire commissioner. Fire commissioners may sometimes be elected officials, which means that becoming one would require running for office and succeeding in an election. In other situations, local authorities could designate fire commissioners; in such a scenario, you might require appropriate expertise in public administration or fire safety. To be a fire commissioner, you may also need to fulfill age, residence, or citizenship criteria.
How can I begin my training to become a fire commissioner?
You may want to think about becoming a volunteer with your neighborhood fire department or looking for work in emergency management or fire safety to get your career as a fire commissioner off the ground. You may learn from this and expand your network in the industry. To further prepare you for the leadership and management responsibilities of the position, you can also think about getting a degree in public administration, emergency management, or a comparable discipline.
What are some common challenges faced by fire commissioners?
When they labor to monitor and administer a fire service, fire commissioners could encounter a variety of difficulties. Securing enough financing and resources for the department is a typical difficulty, especially in regions with tight budgets or conflicting demands on public resources. Likewise, when enacting unpopular policies or coming to tough judgments, fire commissioners may experience political pressure or opposition from other authorities or members of the community. Lastly, in order to make sure that their department complies with all the rules and regulations, fire commissioners may need to negotiate complicated legal and regulatory frameworks.
What are some of the benefits of working as a fire commissioner?
Several advantages may come from becoming a fire commissioner, including the chance to improve your neighborhood and keep locals safe. Moreover, fire commissioners may have the possibility to collaborate with a committed and knowledgeable group of firefighters and emergency responders, as well as the potential to create and put into practice cutting-edge techniques for enhancing fire safety and emergency response operations. The gratification of working in a leadership capacity and making crucial choices that really affect other people's lives is another benefit that fire commissioners may experience.
AS FEATURED ON:
AS FEATURED ON:
By: Ingus Evertovskis

Fire commissioners often have worked as firefighters.

By: Tatiana Belova

Fire commissioners typically are supervisors and business managers for their departments.

By: roza

Fire commissioners often have prior experience as first responders in emergencies.

By: kemaltaner

Fire commissioners may approve purchases of new equipment for use in extrications and other emergency situations.

By: bepsphoto

Fire commissioners may oversee emergency drills.