A nurse, whether a registered nurse (RN) or licensed vocational nurse (LVN) is a key part of the medical team. In hospital settings nurses often provide the most patient care, carrying out the orders of a doctor, administering medications, supervising the use of medical equipment, observing and directly caring for patients, and acting as intermediary between patients and their families and physicians. A nurse's job varies depending upon where he or she works, and certain jobs can be performed by RNs but not by LVNs because LVNs have less training and education.
The difference between an RN and an LVN is largely based, as mentioned above, on length of training and education. LVNs tend to have about two years of education at either professional schools or community colleges. RNs generally hold bachelor's or master's degrees and have more extensive education and practicum experience. The LVN makes less money and cannot perform certain tasks. For instance, most LVNs cannot start IVs, though some can draw blood if they have phlebotomy training, and they may not be able to give injections. In hospital settings, the LVN is there to support the work of the RN and works under supervision of at least one registered nurse. LVNs can do work like helping patients, washing or cleaning patients, changing bed linens, taking vitals and monitoring patients for an RN.
The registered nurse tends to oversee aspects of the patient's care in a more direct manner. She or he alerts the doctor if a patient's health or vitals suddenly changes, starts IVs, administers oral or intravenous medication, and answers a patient's questions. Some nurses specialize in certain fields. Surgical nurses might work in surgery settings, assisting during operations, others may work in doctor's offices, clinics, birthing centers, or as hospice workers. Some nurses work in the home health industry overseeing the health and recovery of patients in the home setting.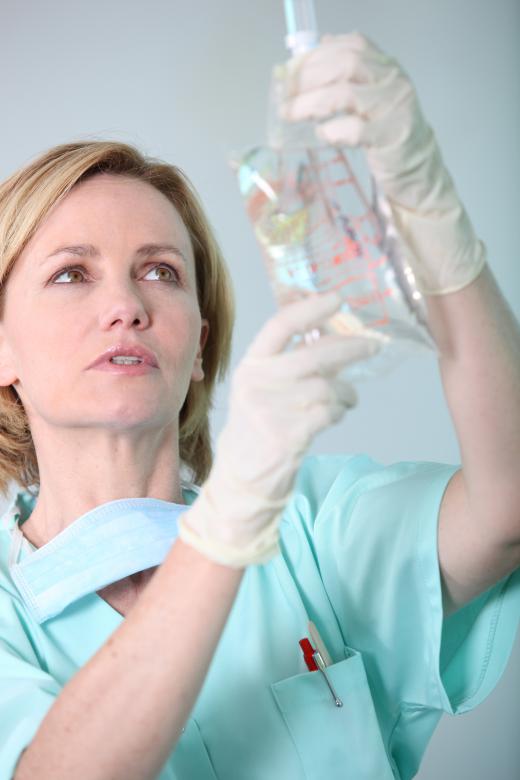 Some nurses may choose to further their education and become an advance practice nurse (APN). These nurses usually hold master's or doctorate degrees, and often have additional certifications. APNs may take a more active role in healthcare; a nurse practitioner, for example, can provide a range of healthcare services, including diagnosing conditions and treating illnesses.
In hospital settings nurses can also take on administrative jobs. They may be responsible for overseeing a ward, scheduling, supervision, employee reviews and other business aspects of the medical field. In doctors' offices, nurses might work with insurance companies, transcribe medical information, and be responsible for overseeing an office, or other nurses or medical employees. Other nurses teach at nursing schools or universities, or teach communities about public health related issues. Variance in possible duties is significant because of the wide range of jobs available in the nursing profession.
AS FEATURED ON:
AS FEATURED ON:
By: WavebreakMediaMicro

A nurse take a person's medical history.

By: auremar

Nurses are tasked with various duties and can administer medications to patients.

By: michaeljung

A registered nurse is responsible for monitoring patients' health and answering their questions.

By: hadkhanong

Nurses can draw blood from a patient if they have phlebotomist training.

By: nyul

Nurses often help the elderly with mobility programs.

By: Sandor Kacso

Nurses in a long-term care facility may forge relationships with residents, providing both emotional support and medical care.