What does a Radio Talk Show Host do?
A radio talk show host works for a radio station and performs on what is typically a daily show. He or she may work alone or with a partner; two-person radio talk shows are fairly common because it gives people the opportunity to converse more easily. A radio talk show host may have a college degree in communications, broadcasting, or journalism, depending on the type of radio show he or she will be working on.
There are a few different types of radio talk shows at all hours of the day. A morning show is a popular version, which is the one people may listen to while getting ready for work or on the commute. A morning show might feature a combination of news, traffic, weather reports, and entertainment discussion, as well as general discussion among the hosts. The radio talk show host might be responsible for all of these segments or just a few.
Some radio talk shows are on all day, while others are broken up with music programs. A radio talk show host will generally not be responsible for playing music on the radio; this is the job of a disc jockey. Some disc jockeys function as talk show hosts as well, however, so there can be some overlap.
A radio talk show host might also run a specific program, such as a political program or an entertainment program. On these types of shows, the topics of discussion will be very limited, based on the subject of the show. These talk show hosts might discuss current events as well as their own opinions; radio talk shows tend to be very subjective, though this is of course not always the case.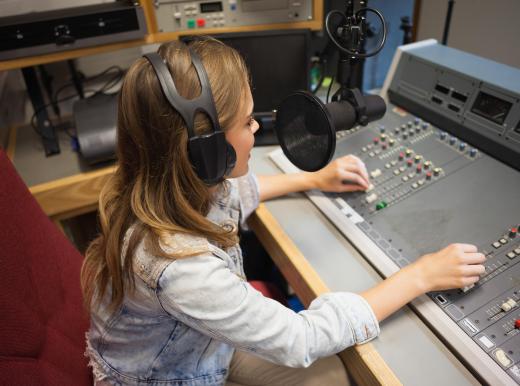 A radio talk show host might also have guests on his or her show, and will interview these guests on air. For this reason, it is important for a talk show host to be able to encourage other people to talk and share their thoughts while still retaining control over his show. A talk show host will likely work with a producer, who might also arrange segments and publicity outings, among numerous other duties. Anyone who wants to become a talk show host on the radio should get as much experience with radio in college as possible, such as by working on a university radio station. After college, many radio stations offer internships, which can be a great way to get a foot in the door.
AS FEATURED ON:
AS FEATURED ON:
By: dmitrimaruta

Some talk show hosts function as disc jockeys.

By: WavebreakmediaMicro

Having a strong expertise in an area that would engage listeners is beneficial to becoming a radio talk show host.

By: gstockstudio

A radio talk show may have a college degree in communications.

By: On-Air

A radio talk show host might have guests on his show, and interview them on air.

By: Innovated Captures

Radio hosts may work with meteorologists to present weather forecasts.

Ryan Seacrest is an example of a radio show host who also serves as a host of television programs.