A private branch exchange (PBX) operator is a person who operates a telephone switchboard. Switchboards are used by large businesses, such as hotels, to handle calls internally as well as receive incoming calls. To become a PBX operator, it is usually necessary to have a high school degree, and it can be beneficial to hold a certification from a technical college that provides people with administration skills. PBX operators usually learn on the job from experienced personnel.
At an organization that uses a PBX, the PBX operator is the first person callers hear when they make a call. The operator receives calls and routes them to appropriate departments, as well as handling short questions and requests for assistance. PBX operators may also take messages, offer wake up calls at facilities like hotels, and coordinate radio communication between different departments.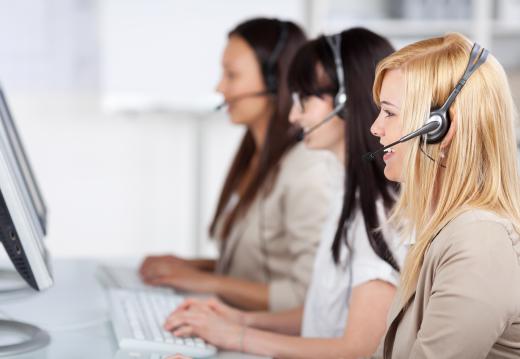 Another part of the PBX operator's role is the management of internal calls. People call each other internally on their own lines with the assistance of the operator, who connects people as needed to different people and departments. People who want to call out also go through the PBX operator. PBX operators can also administer voicemail and answering systems, depending on how the phone system is set up and the preferences of the company.
Historically, this work was done with an electromagnetic switchboard. Phone operators plugged and unplugged lines to connect calls and listened in to confirm that the call quality remained consistent and to close the connection when the call was complete. Today, operators usually work with computerized systems. These systems are much easier to use and tend to make it easier for operators to multitask while handling calls.
Working as a PBX operator requires good people skills, as operators are literally the voice of the companies they work for. They must also work with people in many different departments. It's also important to be able to handle a crowded and stressed environment and to handle multiple tasks at the same time without becoming flustered or angry.
The development of computerized systems has meant that some facilities have replaced their human PBX operators with automated systems. These systems answer phone calls with a recording and route calls automatically in response to commands from callers. Some use voice recognition and others require people to input numeric codes. In these situations, there may not be an actual operator sitting behind the switchboard to process calls.
AS FEATURED ON:
AS FEATURED ON:
By: contrastwerkstatt

A PBX operator routes calls for a corporation or organization.

By: auremar

A courteous and patient personality is needed to become a PBX operator.

By: pst

Working as a PBX operator requires good people skills, as operators are literally the voice of the companies they work for.