What is a Sales Consultant?
A sales consultant is a person who provides analysis and training to help a business improve its sales. Some people also use this term interchangeably with that of sales associate or salesperson, a person who sells things to other people. The training and responsibilities of a sales consultant depends on the type of consultant: one who advises businesses and other salespeople often has years of experience and training, while one who sells products may not need much training at all to start with. The work environment for both of these careers is generally fast-paced and involves a lot of interaction with people.
Salespeople
Duties
Retail sales consultants represent a company's products or services in order to obtain new customers and to secure existing clients. Their exact responsibilities depend on the products or services with which they work, but generally speaking, they are responsible for making sure that a certain amount of product is sold to customers within a certain period of time. They may do this in person, as in the case of retail sales staff, or by managing a team of junior salespeople, as in the case of a regional manager. Many salespeople also do follow-up work with clients, to make sure that they remain satisfied and will come back for repeat sales.
Training
In most cases, it is less important that a salesperson is highly educated than that he or she is experienced in the field, or is willing to put in the time to gain the necessary experience. A successful sales consultant in the auto industry, for example, would have a clear understanding of how to communicate with both clients and business partners, such as vendors and suppliers. Earning an undergraduate degree in college is not necessary to work in this position, as many places provide on the job training for their sales staff.
Despite this, many aspiring sales consultants do take courses in subjects such as management, finance, and business writing at local or online schools. Once employed, many salespeople also participate in ongoing education to keep up to date with the latest selling techniques and sales-related technology. Those in specific industries, like real estate or insurance, may need to get certification from governing bodies before being able to work, but this varies regionally.
Work Environment and Skill Set
Salespeople may work 9 to 5 jobs, but may also have to work weekends and holidays, depending on the area of sales they're involved in. For instance, retail workers often work extra hours during the holidays because of increased shopping. Any salesperson needs to be articulate, good with people, and able to educate a person about a product in a short amount of time. It's also important to be thick-skinned in this industry, and to not take rejection personally. Those who supervise junior staff also need to be able to motivate others, advise them as to good selling techniques, and make clear and comprehensive reports to senior staff about his or her division's performance.
Sales Consulting
Duties
A sales consultant looks at a business' sales structure and performance, analyzes how well it works, and gives the business advice on how to improve. He or she generally goes through the different aspects of a business to determine how it makes its money, and then helps the business owner understand how the sales department plays into that. Many also provide auxiliary services, like researching markets and competitor organizations or helping client businesses implement online interfaces for clients and data management systems for employees. Some also provide training to sales staff, and they may speak at trade shows or hold corporate events to train and inspire salespeople.
Training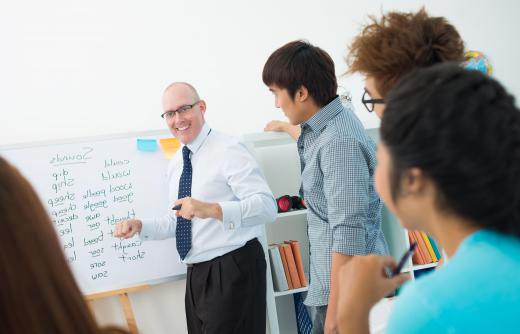 Generally speaking, sales consultants have a lot of experience working as salespeople as well as some educational background in business analytics, IT, or marketing, depending on their speciality. The training for those in this position varies widely, as some work for consulting firms, others own their own consulting firms, and some work individually. Consulting firms often have set minimums of experience or education that they require before they will hire someone, while individual consultants may have lots of sales experience, but no formal education training. Regardless of their initial training, sales consultants often take ongoing education courses to make sure that they are up to date with the state of the market and trends in selling.
Work Environment and Skill Set
The work environment for a sales consultant is often more office-based than for a salesperson, but they spend a lot of time visiting client businesses to observe their sales performance and process as well. Those who work for firms may work more regular hours than those who work individually, but this depends on the firm and the individual worker's preferences. Like salespeople, consultants need to be very good with people, as they often work directly with business owners. They need to be very analytical and quick to spot patterns and errors in a sales process. Consultants also need to be creative: since they work with so many different types of sales processes, they need to be able to come up with solutions that are tailored to individual businesses' problems.
AS FEATURED ON:
AS FEATURED ON:
By: jura

Some people also use the term "sales consultant" interchangeably with "sales associate," or a person who sells items or services to other people.

By: creo77

Sales consultants provide analysis and training to help a business improve its sales.

By: WavebreakmediaMicro

Sales consultants develop new ways to sell merchandise.

By: adisa

Sales consultants may work as a direct seller for larger cosmetic companies.

By: Aleksey Kondratyuk

Sales consultants may oversee every aspect of a corporate event, including food services.

By: DragonImages

A sales consultant must be well-informed of company policies.