What is an Application Engineer?
An application engineer plans the design and implementation of technology products like specialty industry equipment or computer programs. He or she works together with a company's manufacturing, sales, and customer service departments. Companies typically require this type of worker to have a four-year degree along with years of field experience. He or she should have good communication, math and teamwork skills.
Core Responsibilities
People in this field design, build, and test various technological products. They gather information about clients' needs and work with managers to develop products using sophisticated computer software. They can make original applications or redesign ones that a customer already has. Many application engineers also do research and development.
Industry Options
The specific role of someone in this career depends on which industry and discipline he or she chooses. In an industrial environment, an application engineer might orchestrate the planning, design and deployment of heavy machinery and specialized equipment. One in the computer industry applies knowledge of software and programming to develop computer systems and then draft technical white papers that help the public to better understand the technology behind them.
Relevant Company Departments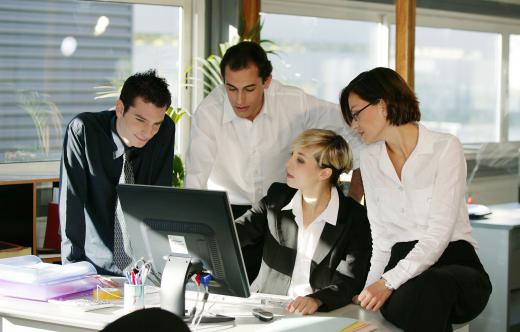 Application engineers usually work with multiple departments in a company. A manufacturing department might look to an applications engineer to confirm specifications, standards, and changes required to make a product. When communicating with the customer base, the sales department may depend on the application engineer to answer questions and to confirm technical functionality outside the realm of its knowledge to help close a sale. After the product has finally reached the field and is in the hands of the consumer, the customer service team could look to an application engineer to assist in solving a technical problem the consumer has while using the product.
Education and Training
An applications engineer typically has at least a bachelor's degree in engineering, computer science or information technology. Businesses usually prefer people with at least five years of industry experience. Another common requirement of an application engineer is that he or she has a strong understanding of lean manufacturing, which entails eradicating waste and improving efficiency when creating goods at an organization. He or she needs to be up-to-date on the software field too.
Required Skills
In any industry, a self-starting person who is highly results-driven could be a good fit for an application engineering job. He or she needs to be an independent thinker and require little supervision, but also has to work well in a team to achieve the organization's ultimate goals. Since most application engineers have to handle multiple projects in a short period of time, they need to be able to multitask and cope with deadline pressure.
Additionally, an application engineer has to present ideas and information accurately and explain industry jargon in a clear manner for customers. A person who has excellent verbal and written communication skills, strong math skills, and the ability to handle both simple tasks and complex assignments is a valuable asset to an organization in the application engineering field.
AS FEATURED ON:
AS FEATURED ON:
By: Artwell

An application engineer may build, design, and test various technological products.

By: Maurizio Targhetta

An application engineer may be responsible for the planning, design, and deployment of heavy machinery and equipment in an industrial environment.

By: auremar

Teamworking skills are an important part of an application engineer's job.

By: Tomasz Trojanowski

Application engineers need strong math skills.

By: Photographee.eu

An application engineer may be tasked with designing each workstation along an assembly line.