How Do I Become a Marine Firefighter?
There are two distinct ways to become a marine firefighter, because there are two distinct types of marine firefighters. One application of this term refers to members of the United States Marine Corps (USMC), who are trained specifically to fight fires on military bases or installations, as well as in other settings. The other application for this term refers to a type of firefighter who is responsible for putting out marine fires that can occur on boats or other sea vessels. To become a marine firefighter in the USMC, you will first need to enlist in this branch of the military.
Like all other soldiers, you will need to complete basic training before you can become a marine firefighter; this is a difficult process that will take several months, as well as many months of preparation before you enlist. Once you complete your basic training, you will need to sign up for firefighter training, which is extensive and in-depth. Expect to spend several months or even several years learning all the skills you will need to become a marine firefighter in the USMC. You will need to pass various exams, both physical and written, in order to qualify for this dangerous but rewarding job.
If you intend to become a marine firefighter in the civilian application, it is likely that you will first need to become a land-based firefighter. In order to do this, it will be necessary to complete a high school education or equivalent qualification, and then you will need to pass a physical firefighter test as well as a written one. You will probably need to study for this test and prepare for the physical exam for an extended period of time. Once you pass the exams, you will need to be hired by a local firefighting outfit. Your probationary period will then begin, and this period can be quite extensive.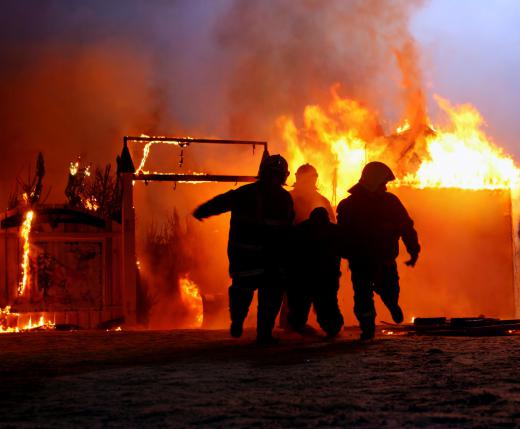 After you finish your probationary period, you will need to continue your general firefighter training. It is a good idea to get a bachelor's degree in fire science to build your skills and knowledge. You will then be able to enroll in a marine firefighting training course either offered by your firehouse or offered by a marine firefighting unit. The training that will allow you to become a marine firefighter will also be extensive and quite intense, so you will need to stay in top physical shape and be prepared for a rigorous training schedule.
AS FEATURED ON:
AS FEATURED ON:
By: Ingus Evertovskis

A firefighter's job can be physically demanding.

By: Tatiana Belova

Military firefighters may face additional dangers compared to those civilian firefighters face when combating blazes, such as nearby aircraft and the presence of ammunition or explosives.