Desk jobs are careers, professions or jobs that are completed while sitting at an office desk. There are various types of careers and job positions that fall under the category of desk jobs. Administrative jobs, help desk professionals, call center representatives and even executive professionals all have desk jobs.
Office jobs are synonymous with desk jobs. In an office environment, there are typically numerous types of jobs where the employee sits behind a desk. For example, consider a law firm. One of the first jobs a client runs into when they enter the law firm office is the receptionist in the lobby. This professional is responsible for answering the law firm's phone, transferring calls, taking messages, greeting clients and notifying the parties the clients are there to see that the clients have arrived.
Other jobs in a law firm would include the paralegals that work for the attorneys. The attorneys also have desk jobs. The assistants or secretaries to the attorneys also work at desk jobs.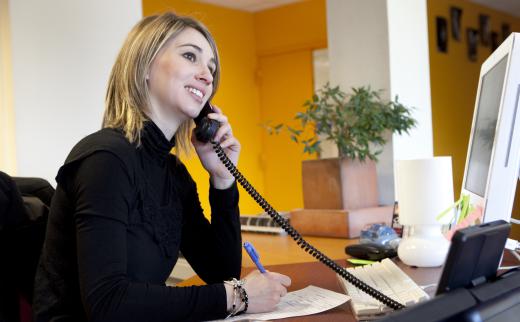 These jobs are typically associated with more passive tasks when compared to manual labor jobs. While a construction worker is outside working in the elements, people who have these jobs tend to sit at their desks for the majority of the day in order to complete their tasks, duties and responsibilities. Call centers, where customers call to order customers are other types of office jobs. Customer service representatives for companies, such as credit card companies, also sit behind a desk and primarily talk on the phone with customers all day.
Help desks can be internal or external jobs. This means that help desk employees may work in the IT department and field calls from internal employees that are having problems with their computers or other machinery in the office. External help desk employees, such as those that work for computer companies, may field technical help calls from consumers that own the computer the manufacturer makes, but are having some sort of problem with setting up or using the computer.
Similar to any job, these types of jobs have advantages and disadvantages. Jobs performed at a desk do not typically require manual labor or moving around a lot. Jobs performed behind desks also allow employees to work inside in climate controlled environments, as opposed to those careers that require employees to work outside.
Some health issues are associated with those who sit at a desk or work on computers too many hours. Carpal tunnel syndrome, vision problems, and varicose veins are but a few of the possible downfalls of sitting at a desk and working for too many hours per day, day after day.
AS FEATURED ON:
AS FEATURED ON:
By: studiophotopro

A receptionist works a so-called desk job.

By: roblan

Improper computer posture can eventually cause varicose veins.

By: ruigsantos

The majority of office jobs are desk jobs.

By: WavebreakmediaMicro

Carpal tunnel syndrome is one health risk of sitting at a disk in front of a computer for too many hours.

By: diego cervo

A call center job may be considered a desk job.