What does a Front Desk Receptionist do?
A front desk receptionist greets visitors as they arrive at a company, and is frequently the first voice people hear when they phone the company. He or she usually does a number of administrative tasks as well, including distributing mail and filing. Depending on the workplace, a person in this position may specialize in things like billing, making reservations, or helping with security. He or she can work anywhere that has a welcoming area, from a manufacturing plant to a hotel.
Duties
The main duties of a front desk receptionist are to make people feel welcome, answer questions, and direct them to other parts of the building. In addition to this, most do office work. They handle written correspondence, schedule appointments, send and forward e-mails, compile reports and keep the office running smoothly. Preparing letters and parcels for shipping is a regular task, as is developing good relationships with shipping and courier services.
Front desk receptionists who have been in the job a while may have additional duties, like light bookkeeping and researching potential vendors. This is particularly common in companies that don't have other administrative staff, like a secretary. He or she may also generate reports and spreadsheets and help organize meetings. Some businesses also have receptionists maintain files on other employees, including information about their attendance and performance reviews.
Specializations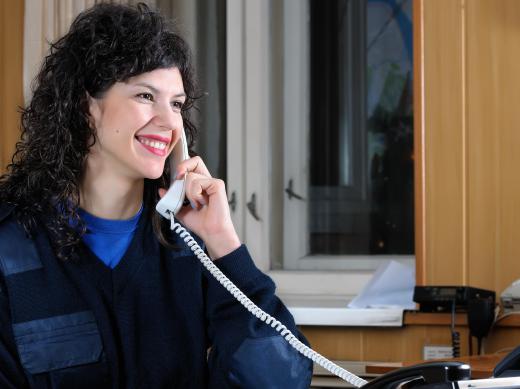 Front desk receptionists sometimes have specializations based on their workplace. For instance, one that works in a law office may have to have a basic understanding of the type of law his or her firm specializes in, while one who works in a medical office may need to be able to do medical billing and understand the basics of health insurance. Likewise, the front desk receptionist for a hotel needs to be able to take reservations and direct people to local businesses and landmarks. Those who work in places that make tangible products or house exhibits, like a factory or museum, may lead visitors on tours as well. Some places may also have people in this position help with security by logging visitors in and out or asking visitors for identification.
Personal and Educational Requirements
A front desk receptionist needs to be highly organized, friendly and engaging. He or she should be able to multitask very well and be able to prioritize projects when need be. The difference between a good and a great receptionist often comes down to good problem solving skills and the ability to interact with a wide variety of people.
Anyone in this position needs to be good working with computers and telecommunication systems. He or she has to regularly contact employees, customers, and vendors, and needs to be able to efficiently call, e-mail and text people as needed. Though not always required, web video conferencing and Voice over IP (VoIP) training is a plus.
There are no formal educational requirements to be come a front desk receptionist. Some companies take people who just have a high school diploma and train them on-the-job. Having at least an associate's degree can greatly increase a person's chance of getting this type of job though, and some places require more advanced degrees.
AS FEATURED ON:
AS FEATURED ON:
By: Stephen Coburn

Front desk receptionists do a number of administrative tasks, including scheduling appointments, answering questions, and keeping the office running smoothly.

By: Marcel Mooij

Front desk receptionists are usually who people talk to when they phone a company.

By: zhaubasar

A front desk receptionist must display proper phone etiquette and excellent customer service skills.

By: evasilchenko

A front desk receptionist should have typing skills.