What is the Difference Between a PA, NP and RN?
It's sometimes difficult to distinguish between a Physician's Assistant (PA), a Nurse Practitioner (NP), and a Registered Nurse (RN), since they often play similar roles in examining and treating patients. Generally speaking, though, these positions differ in terms of the scope of services they can legally provide, the minimum education required, and the licensing required. National and regional requirements vary, but generally speaking, an entry-level RN requires fewer years of education than either an entry-level PA or NP, and may not be able to perform certain tasks.
What They Do
RNs
An RN performs a range of duties, including recording medical histories, examining patients, providing treatment, and assisting in the administration of diagnostic tests, among many other things. He or she may also analyze the results of certain tests, operate medical machinery, and administer medications. RNs often play active roles in helping patients with follow-up care, as well as educating them about various medical conditions. They generally cannot prescribe medication, but they can provide input into a patient's care program.
Most RNs work in hospitals, but they can also work in doctor's offices and local clinics. Some also provide home care or work in nursing homes. They can also work in schools, prisons, and even cruise ships. Not ever person who has a nursing license actually practices as a nurse — some teach other nurses, give presentations to groups about hygiene and disease, help with outreach programs, or work for pharmaceutical companies. Additionally, nurses may work in screening or immunization clinics.
NPs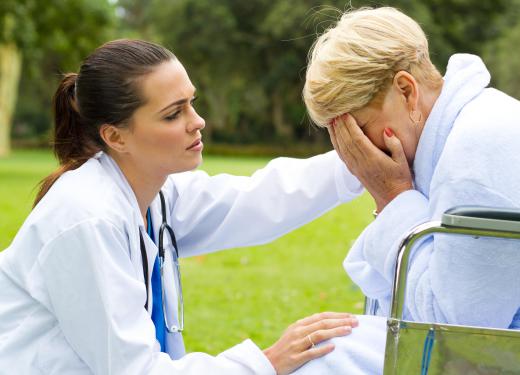 An NP can do all of the things that an RN can do, but they can also order diagnostic tests and interpret test results. Some states also allow NPs to prescribe medicine, though this varies. Additionally, NPs can have their own private practices in some areas. Though some choose to do this, it can be difficult to start up, since some insurance companies do not reimburse NPs as much as they do doctors or hospitals, and some states have laws limiting what they can do on their own. Those NPs who choose not to set up a private practice often choose to work in units or clinics that are focused on their particular specialty — for instance, a Pediatric NP might choose to work in a maternity ward.
PAs
A physician assistant performs many of the same tasks as an RN or NP, but he or she must work under the supervision of a physician or surgeon and cannot operate an independent practice. Many areas allow PAs to prescribe medications. They can also order diagnostic tests, perform physical exams, and help in surgery. Most PAs work in private offices along with the doctor who supervises them. Others work in hospitals, nursing or palliative care facilities, or in clinics.
Education
RNs
To become an RN in the US, a person has to have at least an Associate Degree in Nursing (ADN), which usually takes about two years to complete, or a diploma from an accredited nursing program, which generally takes two to three years to complete. The diploma type of program was common before the 1970s, but now the associate's type of program is more common. Many have more advanced education, such as a Bachelor of Science in Nursing (BSN), which usually takes about four years to complete. Some nurses also use previously earned educational credits to work towards their BSN. For instance, a person with a bachelor's degree in another subject may be able to qualify for an accelerated BSN program, or a nurse with a previous qualification like an ADN or diploma can often take a shorter, specialized transition program.
NPs
NPs are actually a type of RN called an Advanced Practice Registered Nurse (APRN). Any person wanting to become an NP in the US must have passed all of the educational requirements to become an RN and also have either a master's or doctoral degree. Nurses who became NPs before APRN training programs became common in the 1980s are excluded from this requirement. NPs generally have to get additional training to get certification in a certain area, such as pediatrics or oncology.
PAs
A PA has to have at least two years of college in a science-related major, but most have at least a bachelor's degree. After getting the bachelor's degree, a prospective PA has to enroll in an accredited PA training program, which usually takes a little over two years to complete. The training in this program is more similar to that of a medical school program than a nursing degree. After completing a training program, they are eligible to test for licensing. Many nurses get their bachelor's degrees and a few years of work experience first and then apply for a PA program.
Licensing
RNs
All RNs in the US must pass the National Council Licensure Examination (NCLEX-RN), and some also have to get state certification, depending on where they live. Those who fail the NCLEX-RN may have the opportunity to retake it, but they usually have to wait a few months. Many nurses also choose to get certification in other areas, since this can greatly increase their job prospects.
NPs
NPs have to have passed the NCLEX-RN as well as the additional certification needed to become an APRN. Many NPs also have to get further licensure at the state level, but the requirements for this vary from place to place. Some areas require NPs to work with a doctor for a certain amount of time to get their license, and others don't have any specific licensure requirements besides the national requirements.
PAs
PAs have to get national and state licensure, similarly to RNs, but they must also pass the Physician Assistant National Certifying Exam (PANCE). To maintain their licensure, they must take at least 100 hours of continuing education every two years, and they must also recertify for their national license every six years.
AS FEATURED ON:
AS FEATURED ON:
By: michaeljung

RNs can take a patient's history.

By: Gennadiy Poznyakov

A PA might help in surgeries.

By: michaeljung

Many RNs work in clinics, hospitals and nursing homes.

By: artush

PAs may work in palliative care facilities for the terminally ill.

By: JackF

A nurse practitioner can evaluate symptoms and test for common infections.