What are the Qualifications to be a Police Officer?
The qualifications to be a police officer vary from place to place, but most of the core requirements have to do with education and training, physical abilities, and mental and psychological strength. The specifics are often different from one department to the next, but many of the essential skills are consistent across the board. People who are interested in becoming police officers should research the rules in their area before jumping in, but focusing on a few general categories can be a good place to start.
Basic Character Requirements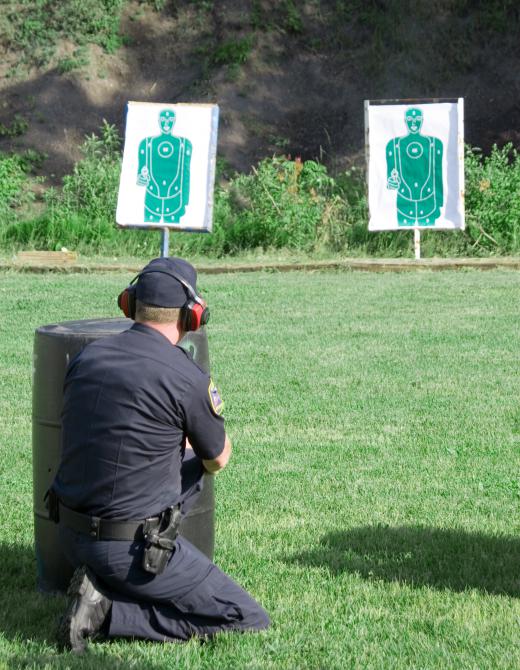 In most places, police officers not only enforce the law, but are also supposed to serve as pillars of the community when it comes to actually living within the confines of the law themselves. This usually means that officers and officer candidates should be upstanding individuals who do not engage in illegal or dangerous behaviors. Most departments require new recruits to submit to background checks before their applications will even be considered. Evidence of past wrongdoing isn't necessarily enough to disqualify a person but, depending on the severity of the issue, it might be.
Academic Background
Schooling requirements tend to be quite different depending on location, but a high school diploma or its equivalent is almost always essential. Many departments also require a certain number of university credits in criminal justice, political science, sociology, or similar fields, and a bachelor's degree in one of these areas is usually helpful. University education is also important for recruits who want to advance — who want to be promoted from a rookie officer to a detective or investigator, for instance. Educational credentials are often as important as field experience for these sorts of internal jumps.
Simply having an education is usually more important than having strong grades, though performance will often play a part in hiring decisions, particularly when competition for slots is steep. Bad grades will rarely disqualify someone, but they might make it harder to get through the door. One of the main reasons departments want evidence of formal schooling is to make sure that applicants have the ability to tackle and prioritize intellectual challenges, so a lackluster transcript might call this into question. Individuals who have served in the military are often accepted with fewer educational credentials.
Physical Qualifications
Officer candidates must usually undergo a medical exam and a fitness test, too. A high level of physical strength is almost always required for the job, and as such, new officers are often evaluated to be sure that they have what it takes to succeed. They must have muscle strength, flexibility, and anaerobic and cardiovascular stamina, for starters; while some of these things can be built up over time, candidates need to be in good enough shape at the outset to make any needed transformations. Once on the job, they'll need to be able to chase suspects on foot, climb or jump over obstructions, and wrestle people to the ground. Initial exams and evaluations are usually designed to tell departments and hiring managers if applicants have what it takes to succeed in these more physical aspects of the job.
Mental and Psychological Elements
There are also usually certain mental requirements that a new police officer must meet. He or she must be able to listen to, and retain, a lot of facts; a working knowledge of local, state, and federal laws is also important. Officers need to use critical thinking and logic to solve crimes and must be able to write detailed reports, interview suspects, and think on their feet. While there is not always a uniform way to screen for these abilities, most departments will require applicants to take a written exam and also usually participate in a series of interviews. These can be good ways of gauging how well a person will be able to tolerate the more strenuous parts of the job.
A mental health evaluation may also be part of the process. Police officers have to be able to cope with a lot of troubling things, as their job often puts them at the front lines of danger and makes them witnesses to violence, abuse, and gruesome crimes. Screening for mental illnesses and ascertaining applicants' strength in the face of adversity can be a good way to ensure that only those people who can handle the job actually find themselves in a position to be doing it.
Age and Residency
Many departments have age minimums and maximums for new recruits, and some also require that applicants be residents of the jurisdiction they hope to serve. These rules are usually designed to promote safety and to instill a sense of community among the force. In many cases, these sorts of requirements are more flexible than some of the others, however, which means that someone who is a year too old or who lives in a neighboring town may still be able to apply — he or she just may need to appeal to the department head or chief of police for a special exception.
Job-Specific Training Requirements
Almost all departments send new recruits to a police academy to learn the basics of policing as well as on-the-job skills, like patrol techniques and handgun safety. Most academies are also designed to prepare new officers for the physical requirements of the job, often combining structured workouts with periods of intense activity. In some places, this training comes as a course taught over several weeks, though it can last for as long as a year. A lot depends on local rules and what sorts of skills are going to be covered.
Police academy is usually just the beginning of formal job training. Recruits in most places can expect to attend regular workshops and training days to keep up to date on new research, techniques, and technology. Continuing education is one of the best ways for officers to keep their edge and to stay on top of changes that may be happening outside the confines of what they do on a day-to-day basis.
Certification and Licensing
Law enforcement officials must also be licensed in most places, a requirement that is usually separate from any departmental qualifications. Licensing is usually handled by a larger government oversight body, and often consists of both a written test and a practical application — candidates may have to demonstrate proper firearm safety before a board of reviewers, for instance, or rehearse the protocol for making an arrest. Most of these requirements are designed to make sure that all officers within a particular jurisdiction are doing things in a uniform way, and they can be a good means of ensuring competence and skill in the larger police force.
AS FEATURED ON:
AS FEATURED ON:
A police officer must undergo firearms training.

By: Lisa F. Young

Police officers must be able to document incidents they respond to.

By: Chlorophylle

A police chief is the leader of the police force.

By: mario beauregard

Police officers need to have a clean driving record.

By: aerogondo

Police officers need to meet certain physical requirements.

By: BortN66

Police officers need to be ready to respond to incidents of violence.

By: il-fede

Police officers often respond to the scene of a vehicle accident.

By: kilukilu

Police officers assist investigators with crime scenes.

By: donserhio

Police officers may need training in how to deal with suspects.